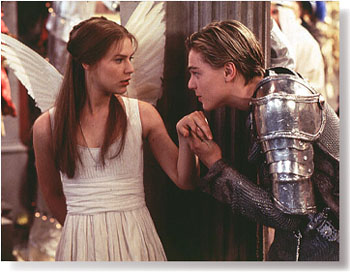 Well I have finally got my act together and started a blog. It's something I have been meaning to do for a little while as I think it will be useful for me and maybe, just maybe, other people as well. I'm planning on posting about the costumes I'm making or what i find inspiring/ideas that I have.
The project taking centre stage at the moment is a replica of Claire Danes white angel dress from Baz Luhrmanns 'Romeo and Juliet'. I have always adored it for its simplicity and pure girlish innocence.
My first attempt at this dress is still under construction, a concealed zip, hem and bias binding around the bodice edges still left to do. I can say for sure it will need to be made in a heavier cotton next time to achieve a smoother hanging finish on the skirts.